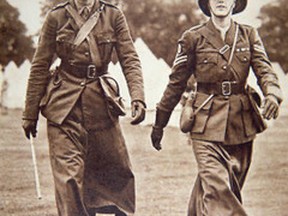 Article content
To recap some information provided in preceding Ponderings, it was emphasizing the Athlones – Earl of Athlone and Princess Alice, while serving as vice regal couple, among their many interests supported Canadian art and culture – sponsoring wartime benefit concerts and performances. According to RH Hubbard, art historian, author, and chief curator, the National Gallery of Canada (1954-1980): "Alice showed her serious concern for the arts by attending, literally, every concert and exhibition in Ottawa and receiving all the artists."
Article content
She continued her close relationship with Canada, even though not living in the country. One such association was in 1947, when she advised Canadian Prime Minister Mackenzie King, on the selection of antique silver as a wedding gift for future Queen Elizabeth ll and Prince Philip, Duke of Edinburgh. She was often consulted on matters of royal protocol "as she was the oldest surviving member of the royal family".
"In 1959, Alice spent almost two months in Canada, traveling across the country by train, visiting friends and fishing near Kamloops." While in Ottawa, she was a guest of Governor General Georges Vanier, first Québecer and second Canadian-born Governor General, and wife, Pauline, at Rideau Hall. Alice is said to have commented, on her familiarity with Rideau Hall – she felt as though she remained its chatelaine. Four years later, in 1963, she was back in Ottawa to present regimental colours, as Honorary Colonel, to the Princess Louise Dragoon Guards. The Guards are an armoured regiment named for Princess Louise (1848-1939), daughter of Queen Victoria.
In addition to all her formal responsibilities, Princess Alice involved herself in various charities and philanthropic endeavors. "I had my own charitable work to occupy me. First and foremost was the national Children's Adoption Association, which I had joined after its foundation in 1917," she wrote in her memoirs.
She chaired the finance committee of the Athlone Trust to provide financial assistance for adopted children and their families. Alice "was the first member of the royal family to publicly support access to contraceptives and family planning. In 1933, she was the patron of the Malthusian Ball, organized by the International Birth Control movement to raise funds for disseminating information about family planning methods."
Article content
Always appreciative of art, Alice was involved in the Deptford Fund (Albany Performing Arts Center), London, and the Royal School of Needlework – center of excellence for art of hand embroidery since 1872 – based at Hampton Court Palace since 1987. The center was founded by Princess Helena of United Kingdom – third daughter and fifth of nine children of Queen Victoria and Prince Albert. Helena, sister of Leopold, Duke of Albany, was Princess Alice's aunt.
Alice published her memoir in 1966, entitled For My Grandchildren, in which she described her life, duties, and travels. Although not under her authorship, many books tell the story of her and her relatives.
According to PRABOOK: "In 1978, Princess Alice [of Albany] had a fall, hurt her shoulder, and had to be hospitalized for several days. Although she did recover, this marked the beginning of the deterioration of her health. Members of the royal family visited her regularly, including the Queen; Queen Mother; Princess Margaret; Princess Alice, Duchess of Gloucester; Queen Juliana of the Netherlands; and various Dutch, Swedish, and German princesses. The Queen Mother once remarked she had been kept waiting while Princess Alice 'put a little powder on her face and had her hair attended to'."
Princess Alice's health continued to slowly deepen to the point where she was unable to walk. She is remembered saying – when that happened, she would die. Her inability to walk was a fact in the latter part of 1980, although she managed for a while using a cane, disguised as an umbrella, until it was necessary for the aid of a wheelchair.
Article content
Fulfilling her prophecy when her mobility was curtailed, soon after, Alice Mary Victoria Augusta Pauline Princess of Great Britain and Ireland and Countess of Athlone "died peacefully in her sleep on January 3, 1981, at [Clock House – an apartment] Kensington Palace built 1605 – Queen Victoria born here, March 24, 1819]" – 24 years after the death of the Earl of Athlone – "one month short of her 98th birthday." She was the last surviving grandchild of Queen Victoria and the longest-lived British princess of royal blood, at that time.
At the time of her death, she was great-aunt to the King of Sweden and the Queen of the United Kingdom. She lived through six reigns: those of Queen Victoria (grandmother); Edward Vll (uncle); George V (cousin and brother-in-law); Edward VIII (first cousin once removed and nephew); George Vl (first cousin once removed and nephew); and Elizabeth II (first cousin twice removed and great-niece).
Following her funeral in St. George's Chapel, Windsor Castle, "attended by all members of royal family", Alice was "buried alongside her husband [Alexander Cambridge, Earl Athlone]and son [Rupert Cambridge, Viscount Trematon] in the Royal Burial Ground, Frogmore [Frogmore Cottage, currently UK home of Duke and Duchess of Sussex – Meghan and Harry], directly behind the mausoleum of Queen Victoria and Prince Albert in Windsor Great Park. Her daughter [Lady May Abel Smith] and son-in-law [Sir Henry Abel Smith] are also buried close by."
Article content
Princess Alice is remembered for being one of the most popular members of the royal family – outspoken, independent, public spirited, "a woman of great dignity and verve". A royal, yes, but a familiar sight to Londoners on public transit, shopping, and strolling in the community. Although she had a sense of humour, she was not amused by Winston Churchill, when at the 1943 Québec Conference, he flooded the drawing room "with clouds of pungent cigar smoke".
Speaking of Churchill and the Québec Conferences of 1943 and 1944, she said: "It was wonderful to meet all the leading men directing the war effort, and the President [Franklin Delano] Roosevelt and Winston [Churchill] and their ladies [Eleanor Roosevelt, Clementine Churchill] were delightful guests when we were just en famille, and we enjoyed many thrilling conversations, off the record, as they say." In contrast, "Prime Minister Mackenzie King was not always easy to get along with."
Referring to the leading men's ladies Eleanor Roosevelt and Clementine Churchill, it is well to remember they, like Alice, were involved in social and humanitarian endeavors, and in their own right – formidable women, who, while supporting their husband's interests did not deny their own.
As was addressed at the beginning of the insight to the 16th Governor General of Canada, Earl of Athlone and wife, Princess Alice of Albany, although they may not have dropped in to see and be seen by the people of Peace River, their story was sufficiently compelling to share.
Article content
Throughout this Ponderings series of Governors General, we delved into the lives of five GGs. It all began with Adrienne Clarkson, née Poy, who immigrated to Canada from Hong Kong, China, as a refugee with her parents in 1942, during the Second World War. She was GG, Oct.7, 1999-September 27, 2005. Her story was part of a Ponderings series about people from China who made Canada and Peace River their home. Clarkson's Governor Generalship precipitated an interest in knowing more. In researching her predecessors, it was found several in the earlier years, who, in their travels of Canada found Peace River on their itinerary.
You will recall meeting the following Governors General and their consorts who visited Peace River: Lord Tweedsmuir – John Buchan and Susan Charlotte Grosvenor (November 2, 1935-February 11, 1946; Lord Bessborough – Vere Ponsonby, 9th Earl of Bessborough and Lady Bessborough – Roberte de Neuflize (April 4, 1931-November 2, 1935); Lord Willingdon – Freeman Freeman-Thomas and Lady Marie Adelaide (August 5, 1926-April 4, 1931; Lord Byng – Julian Hedworth George Byng and Marie Evelyn Moreton (August) 2, 1921-August 5, 1926); and Duke of Devonshire – Victor Christian William Cavendish, 9th Duke of Devonshire and Lady Evelyn Emily Mary Fitzmaurice (November 11, 1916-August 2, 1921).
More offered in next Ponderings.
Sources: Peace River Remembers, Jack Coulter, Frank Richardson; Turning the Pages of Time – History of Nampa and Surrounding Districts; Peace River Museum, Archives and Mackenzie Center files; Peace River Record-Gazette; Peace River Standard; Coots, Codgers and Curmudgeons – Hal C. Sisson and Dwayne W. Rowe; Edmonton Journal; Canadian Museum of Immigration at Pier 21; History Canada; Northern Gazette; Peace River Record; Northern Review; The Canadian Encyclopedia.
Beth Wilkins is a researcher at the Peace River Museum, Archives and Mackenzie Centre.