Washington Post writer Rachel Siegel reported on the front page of Saturday's paper that, "Inflation in May reached a new pandemic-era peak of 8.6 percent compared with a year earlier, with soaring energy, housing and food prices Driving up costs at the fastest pace in 40 years.
"Compared with April, May prices rose 1 percent, according to the latest snapshot issued by the Bureau of Labor Statistics and known as the consumer price index. The brutal report surprised economists and makes clear just how inescapable inflation has become for millions of American households, dealing with higher rent, bigger gas bills, and rising grocery costs."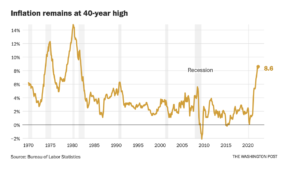 The Post article stated that,
The food index increased 10.1 percent for the 12 months ending in May, the first double-digit increase since 1981.
Measures for dairy and related products rose 2.9 percent in May, compared with April, their largest monthly increase since July 2007. Meats, poultry, fish and eggs rose 1.1 percent over the month, with the index for eggs rising 5.0 percent."
Groceries +11.9% y/y –> Biggest inc. since 1979
Chicken +17.4% ->Largest ever
Restaurants +9% -> Largest ever
Fuel oil +107% ->Largest ever
Electricity +12% ->Largest since '06
Rent +5.2% ->Largest since 1987
Airfare +37.8% ->Largest since 1980
Services +5.7% ->Largest since 1990

— Heather Long (@byHeatherLong) June 10, 2022
Wall Street Journal writers Jaewon Kang and Annie Gasparro reported on Saturday that, "The Labor Department on Friday said Grocery prices rose 11.9% in May over the past year, and prices increased 7.4% at restaurants and other food venues outside the home in the period. For both, it marks the biggest jump in over four decades.
Russia's invasion of Ukraine, one of the world's top grain-producing regions, is lifting the price of pantry staples, cooking oils and livestock feed for meat. Bad weather other impacting big crop-producing countries, including in parts of South America, Australia and India, is fueling the global crunch, too."
The Journal article added that, "Meat prices have surged over the past year as processors have said their factories remain short-staffedso they can't slaughter as many cattle, hogs and chickens. Meanwhile, demand from grocery stores and restaurants hasn't let up, executives have said, contributing to higher meat prices. Boneless, skinless chicken breast pricesfor example, are up 68% since the start of the yearaccording to the Agriculture Department."
New York Times writer Ana Swanson explained on Friday that, "Rising costs for fertilizer, gasoline and other farm inputs have made it more expensive to produce and transport food in the United States and around the world, translating into higher food prices for consumers.
"The conflict in Ukraine, which has halted shipments of wheat, edible oils and fertilizer, continues to put upward pressure on food prices, along with ongoing port congestion, the US Department of Agriculture has said.
"An outbreak of the bird flu has also led to the loss of millions of chickens in Iowa and surrounding states."
Meanwhile, with respect to fuel prices, Jeff Stein reported on the front page of Sunday's Washington Post that, "With the average price of gas nationwide topping $5 per gallon Saturday, surging fuel prices Across the United States are creating new strains for millions of consumers and businesses, while compounding intractable political challenges for the Biden administration.
"The spike in gas, oil and diesel prices has saddled all kinds of businesses with higher costs that will force them to raise prices on their customers and pull back on new investments."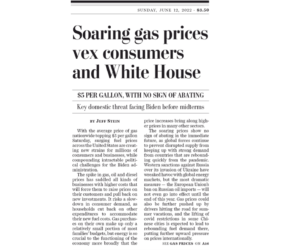 Turning to recent news on fertilizer prices, DTN writer Russ Quinn reported last week that,
The streak is broken.
"A majority of retail fertilizer prices are lower compared to last monthaccording to prices tracked by DTN for the last week of May 2022. This is the first time since the third week of November 2020 that most fertilizers are lower."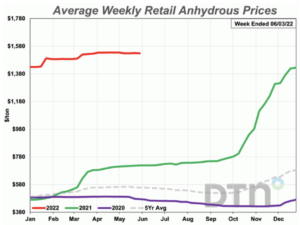 Quinn pointed out that, "DAP had an average price of $1,056/ton, MAP $1,079/ton, potash $880/ton, urea $979/ton, 10-34-0 $905/ton and anhydrous $1,529/ton.
"Two fertilizers were slightly more expensive compared to last month. UAN28 had an average price of $633/ton and UAN32 $731/ton (all-time high price)."
"It only took one year, six months and 20 days for the majority of fertilizer prices to finally be lowerQuinn said.
Also last week, Bloomberg writers Aine Quinn and Rachel Morison reported that, "CF Industries Holdings Inc. will close one of its UK fertilizer plants permanently as it struggles with high energy costs.
"The company is proposing to shutdown the Ince facility as it restructures operations in Britain, it said Wednesday."
And Reuters writers Rithika Krishna and Rod Nickel reported last week that, "Nutrien Ltdthe world's largest fertilizer producer, said on Thursday It will increase its Canadian potash production by 20% to an annual 18 million tons by 2025helping to address tight supplies that have contributed to a global food shortage."
On Friday, Bloomberg writer Jasmine Ng reported that, "China's fertilizer exports from January to May tumbled to the lowest level in four yearssignaling that supply constraints persist on the global market Even as prices retreat from a record. China moved to restrict exports in October As global fertilizer costs rose to all-time highs, spurred by rising prices of key feedstocks such as coal and gas amid energy shortages around the world. The nation's top economic planner called for stability in fertilizer supply and prices because of its importance for farm output and food security, a top priority for the government."
And in Thursday's Wall Street Journal, Vinod Sreeharsha and Samantha Pearson reported that, "Brazil is rushing to roll out high-tech alternatives to fertilizer to boost farm production because of global price surges exacerbated by Russia's war in Ukraine.
"Drones fitted with cameras hover over centuries-old farms, allowing farmers to use fertilizer only where it is really needed, while nearby laboratories use the same lasers employed by NASA on Mars to perform soil analysis in seconds. Special white gels hold nutrients in place near plant roots with minute precision, preventing waste, and scientists at Brazil's state research agency, Embrapa, are helping the poorest farmers to transform their own feces into fertilizer using microbes from cow intestines.
"Even before Russia invaded Ukraine in February, Brazil had been testing a variety of high-tech solutions to boost productivity and reduce the country's chronic dependence on imported fertilizers. With global supplies now scant, These solutions are attracting avid interest, both inside and outside Brazil."